You can find 100 – 91 here.
90 – 81. Easily my most embarrassing block of 10.

90 – Faster Pussycat – Faster Pussycat
Again, picking 100 is a lot. This album is terrible musically, but I still like it. It has a ton of energy and it really represents that dirty L.A. glam metal sound that I used to love.


89 – Radiohead – OK Computer
I don't listen to a ton of Radiohead, but maybe I should. This is one of those albums that people go so nuts about that you are compelled to listen to it. I did and this one was worth it.


88 – Slipknot – Vol. 3 – The Subliminal Verses
Slipknot is one of those bands that Gabe was always telling me I would like. I remember when their first album came out I wasn't that thrilled. I like a lot of really heavy music (there will be a lot more of it on this list) but Slipknot just didn't do anything for me – until this album came out. They grew up a lot and the songwriting is really mature for a death metal band.


87 – Sea Hags – Sea Hags
Here it is. The dreaded Sea Hags. I only know one other person that likes this album (Hi Mike!). Maybe I should have put it lower on the list (it should probably just switch places with "Talkin' Blues") but I thought if I put a bunch of crazy shit no one had ever heard of in my bottom 100 nobody would read any further.


86 – Michael Jackson – Thriller
You know you like it too. Let's move on.


85 – Gorillaz – Gorillaz
Have you heard the song "5/4"? It is literally in a 5/4 time signature. It blows my mind. From what I understand "Demon Days" is supposed to be even better, but that album came out after The Goon Squad was born. If you'll notice almost all the music I listen to was released before May of 2004.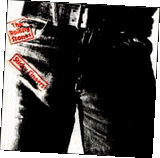 84 – The Rolling Stones – Sticky Fingers
Trite? Probably. But it's The Stones. "Can't You Hear Me Knocking", "Brown Sugar", "Wild Horses". Come on. Who is going to argue with that?


83 – Cinderella – Night Songs
I know Croutonboy and Chag both picked "Long Cold Winter", but I like "Night Songs" better. It's more rock and less ballad. Tom Kiefer's voice is not cut out for ballads. Oh, but the way. Do you want to hear a really funny story about Cinderella? Just go here and then come back. I'll wait.

82 – Led Zeppelin – Led Zeppelin II
Mainly because "Ramble On" is my favorite Led Zeppelin song. I'm not even sure what I should say about this album. I feel like by just saying "Led Zeppelin II" you know exactly what I'm talking about. Is it the guitar sound? Is it the riff that leads into "Living Loving Maid"? I don't even know exactly what makes this my favorite Zeppelin album. It's just good.


81 – Liz Phair – Exile in Guyville
Okay, she's done a lot of stuff I don't like too, but this album has a lot of really good material on it. This represents what is great about Liz Phair. "Johnny Sunshine" hits a chord with me. I guess what I am trying to say is that if you don't understand why people like her, you should listen to this album.
Comment Via Facebook
comments