This whole thing is amazing. I really thought that doing this list would be all for me, but I've been getting a ton of feedback. This has been great. I encorage everyone to do the same if you have the time.
You can see 100 – 91 here, 90 – 81 here and 80 – 71 here.

70 – The Hives – Veni Vidi Vicious
This is such a great rock n roll album. It doesn't have any real gimmick, it just has good songs.

69 – Garbage – Garbage
I was standing in a used CD store in Ft. Lauderdale the first time I heard Garbage. It was a pretty new album at the time and I bought it right then and there (and you know the used places rip you off on the new stuff). This is an underappreciated band.

68 – Hole – Live Through This
Gabe hates Hole. I understand why people don't like Courtney Love. I don't think I like Courtney Love, but I like this album. A lot.

67 – Mudvayne – L.D. 50
Huh. I don't even know what L.D. 50 means. I do know that "Nothing to Gein" is badass. I also know that while I fought against the Mudvayne "makeup gimick" (which in their defense, they don't do anymore) I couldn't get past how good this album was. Is. It's good. It's clever. It's heavy and it's creative. I dig it. Get it? I guess you only get that if you actually know who Mudvayne is. I'm okay with that.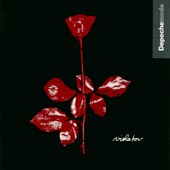 66 – Depeche Mode – Violator
"Violator". Wow. I'm trying to think of a song that makes me want to dance more than "Personal Jesus" and all I'm coming up with is "Thinderkiss '65". Yet, this album has so much more than just "Personal Jesus". I think five of these songs were singles, and they are all quality tracks. This is the only Depeche Mode that you will see on my list because in my mind it stands so far above all their other records. They have a lot of other songs that I like, just not entire albums that grab me the way that "Violator" does.

65 – Ministry – The Mind is a Terrible Thing to Taste
This album was my first taste of industrial heaviness. My friend Jana made me a tape in 1990 that had this on one side and "Pretty Hate Machine" on the other side. I'm pretty sure the tape is no longer listenable from being overplayed.

64 – The Beastie Boys – Licensed to Ill
My favorite line from this album is "We drink, and rhyme, and rhyme and pillage." I think in other circumstances I would like to live my life like that.

63 – Snoop Dogg – Doggystyle
I almost left this one off. Then I put in in in the low 80's. Then I moved it higher, then I moved it higher again. Snoop is so overplayed at this point that I had forgotten how good this album was. There is a ton of great music on this disc.

62 – Soundgarden – Badmotorfinger
The guitar sound on "Outshined" alone is a reason to love this album. For a long time I considered Soundgarden my favorite band. Going back through the albums I can't ecactly put my finger on what it was about them that struck such a nerve with me in college, but maybe it had something to do with that drop D tuning.

61 – The Cult – Electric
Every time I hear "Wild Flower" I want to dance. The Cult is one of those bands that I liked until I saw them live. After that I loved them. (Sort of the opposite of Soundgarden).
Comment Via Facebook
comments