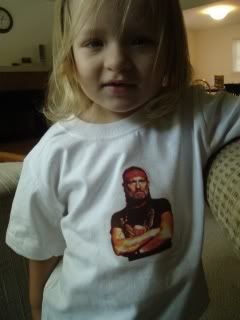 Dutch gave me two of these superfly Willie Nelson shirts at BlogHer. What can I say? Only one of the children was feeling cooperative today.* The blue one won't wear any shirt that isn't pajamas this week. (Picture me rolling my eyes like crazy.) I'm serious. He has no problem wearing a metal mixing bowl on his head – but he won't wear a regular shirt.
Whatever. I've learned to choose my battles with these two. Yesterday Ian carried a pink purse to the grocery store that contained a hammer, a wrench and a screwdriver. Try to put that together in your head. Claudia's purse (also pink) had a pair of plastic pliers and a pair of pink sunglasses. Gender stereotypes be damned.
*That is pretty typical, but more often than not Claudia is the obstinate one.
Comment Via Facebook
comments