I was sitting around cleaning my house and trying to think of something interesting to talk about today. I had no inspiration until I was checking my bloglines. Tammie over at Soul Gardening wanted to know what the weirdest thing is that we have displayed in our house.
Easy.
A cow skull.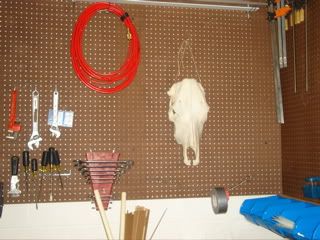 That's right. You heard me. A cow skull. A real one from a real cow. I think Gabe got it in Montana or Wyoming.
As you can see, it is currently displayed in our garage (which is awesome, because it is the only room our neighbors get to see inside regularly) but for a while it was actually hanging on the wall in our family room.
Does anyone else have any animal skulls hanging around your house? (and it doesn't count if you actually worship the devil either).
Comment Via Facebook
comments