Hey, remember how I told you I finally got something for free? It was a book called "The Early Birds" by Jenny Minton. Jenny was an editor in New York and her entire life changed when she went through IVF and had premature twins.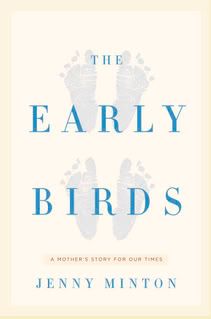 Jenny's twins came much earlier than mine did. Hers were born at 31 weeks (40 is normal and anything beyond 37 weeks in considered full term) and mine were born at 34 1/2 weeks. Jenny's twins were in the NICU for eight weeks and mine were only in for one week.
Still, reading her story brought back a lot of feelings from my time (41 days) in the hospital and what it was like when The Goon Squad was in the NICU. I have a feeling it would be the same for some of you other twin parents or anyone who had a premature baby. For example, I don't know how many of you are familiar with the label "wimpy white boys" but we heard it when Ian was refusing to eat. We had to feed Ian through a tube in his nose. The nurses said (and this is a real statistic) that white boys have the hardest time in the NICU. This was only one of the memories that came flooding back.
There were a couple of times that I actually had to put the book down because reading it was so emotional. Minton talks about how at one point she was convinced that her son was going to die and she was trying to prepare herself emotionally. I remember feeling the exact same way, and in the exact same post c-section drug induced haze.
I got to ask Jenny Minton a few questions and she was kind enough to actually answer them for me. So (except for the BlogMe interview) please bear with me on my first ever interview.
Sarah: As a parent of twins myself, one of my greatest fears is having
another set of multiples. Were you scared during your second IVF that
even though you were only implanting one, it would split and you
would end up with two or three?
Jenny: I think the chances of a single embryo splitting are very small so I didn't
worry too much about having multiples after implanting just one embryo.
That said, I
was definitely relieved when I saw a single sac on the ultrasound. I
worried about getting pregnant again, even with a single baby, but we had an
additional embryo that had been frozen, and somehow my husband and I felt
uncomfortable leaving it in the freezer indefinitely. Each time my husband
paid the quarterly storage fee he would say,"It's time for Gus and Sam's
brother to come off the bench." And he was right that Leo is a boy!
Sarah: I thought that it was brilliant that you hired a nurse to allow
you and your husband to get some sleep when the twins first came
home. Is there a service you can recommend to my readers who are
pregnant with multiples?
Jenny: New York City has several baby nurse services. Because so many New Yorkers
seem to hire baby nurses I think the best bet for finding one there is
through word of mouth. In Boston there's
a service called BlueBirds that I've heard is wonderful.
Sarah: I am about to fly with my twins for the first time. They are two
years old. Do you have any advice for me?
Jenny: We gave our two year olds Benadryl before flying. Is that terrible? Now
that they are three they love traveling on airplanes and are generally well
behaved on them. I also bring a portable DVD player which helps pass the
time. It stinks that you'll have to wait until you've gone through security
now to buy juice etc. since you can't check in carrying any liquids!
Sarah: What do you enjoy most about being a parent of multiples? What do
you think is the most challenging part of having twins?
Jenny: I love observing how the relationship between our twin boys that has existed
from day one continues to develop. Gus and Sam are best friends discovering
the world side by side. I felt so much better about dropping them off on
the first day of preschool last year knowing they would have each other.
They should always have each other. I just visited a girlfriend who has one
year old twin boys and it brought back so memories of how we cared for our
twins as babies. Now we have a fifteen year old baby boy which is so much
less intense. Of course I appreciate that it is easier having only one baby
who was born healthy, and I've felt more relaxed this time around. But for
a moment during my visit I missed how when your twins are so young, the
absolute only thing in the world you can do is take care of them. There is
hardly time to go to the bathroom. Our third baby is lugged around to his
older brother's activities and on my errands. For better or worse I'm less
focused on him. Twins demand so much more attention.
The most challenging part for me was our twins' birth more than two months
before their due date. I was so worried and fearful and anxious the entire
nine weeks they were in a neonatal intensive care unit, and even after they
came home on monitors and several medications. I felt guilty that I had
caused them such a traumatic birth and I worried they would forever suffer
from problems due to their prematurity which would be my fault.
Sarah: What is the single piece of advice that you would give to
someone who has a child or children in the NICU right now?
Jenny: When we were in the neonatal intensive care unit for what felt like forever
the nurses kept reminding us that our boys would not attend college in the
NICU. I would look around and see that it was true, there were no patients
remotely near college age. But in the NICU time seemed to stand still. I
would try to look ahead to the boys' baptism and what seemed most remarkable
was picturing them free of oxygen tubes and monitor wires, living out in the
world. Your babies will come home. You will become the person who takes
care of them, who advocates for them, who knows them best. You will have a
life with them. The majority of preemies do remarkably well. I would
advise someone with a child in the NICU to unplug themselves from the
internet where they are most likely reading about what can go wrong with
preemies. Studies show that preemies whose parents are less anxious have
fewer developmental delays. Our healthy baby just had his first febrile
seizure last week and ended up in the emergency room for a few hours. Scary
things can happen all around us. But your preemies will most likely grow up
to lead happy, rewarding lives. So get rid of the guilt, know that the NICU
is a rollercoaster ride that will soon be over, and afterwards, for years to
come, not a day will go by when you aren't enormously grateful.
__
"The Early Birds" is really well written, and I think any parent, especially one who has been through the NICU experience could appreciate Jenny Minton's story.
Thanks Jenny!
Comment Via Facebook
comments