Wow. do any of the rest of you have kids in a co-op preschool?
Last Saturday we were supposed to go to the school for a work day. Last Wednesday we had a "meet your teacher" morning on the playground. Yesterday I had a class playgroup in the morning and a co-op training and school tour at night. Tonight we have a family picnic at the school and tomorrow The Squad's teacher is coming over for a home visit. This Saturday Gabe is going to the school to help put a new cover on the sandbox to work off some of our maintenance hours.
Next Monday we have "back to school night". Before then I have to hurry up and get a physical and a T.B. test. Tuesday school starts and I have to go that day, and I might also have a training on Wednesday.
A normal parent co-ops in the classroom about once every five weeks. I have twins, so I'll be co-opping about once every other week. On the days I co-op I am in charge of bringing a snack (no nuts of any kind, it can't be anything that anyone in the classroom is allergic to, they frown on sugar, and there should be both a fruit of some sort and a protein), coming in early, staying last to clean up and supervising my kids while I am preparing/cleaning/playground monitoring/feeding/taking kids to the bathroom etc.
Did I mention every family is scheduled for "Sub" days in case a teacher or a teacher's aide gets sick?
My kids will be at the preschool six hours a week. Three hours, two days a week.
And to think that I thought I would be getting a break when they went to school.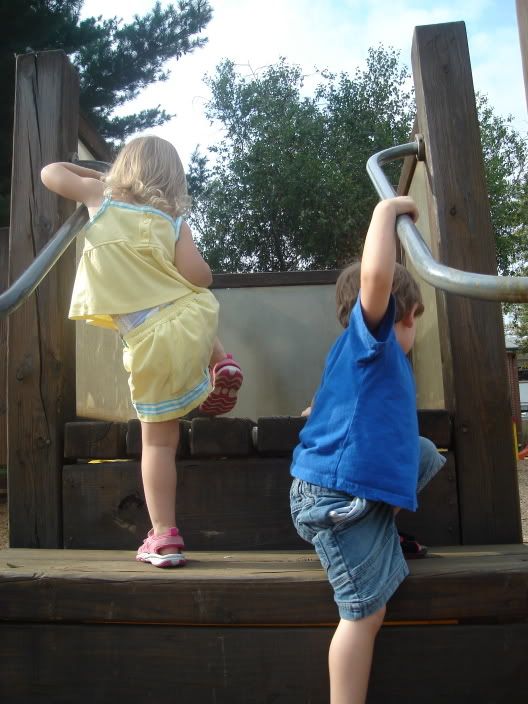 Gabe pointed out last night that it was a good thing we were doing this for socialization purposes and not so much so that I would have time to work or anything. I guess if Claudia can learn to share and Ian can learn to calm a little bit (did I tell you guys he threw a HAMMER at Lumpyhead the last time he came over?) it will all be worth it. Plus, maybe I will get an extra shower a week out of this.
Comment Via Facebook
comments