Yesterday, we were leaving on of our many pre preschool events. I'm thinking that we left a little bit later than we should have because both kids were in foul moods.
I was holding Ian (who was just recovering from a meltdown because we went by his new love the drinking fountain without stopping to get some water) and Claudia was refusing to hold Gabe's hand.
"No. Mommy do it." she said.
Fine. So I pass Ian over to Gabe and I offer Claudia my hand. She shakes her head.
"No. I want up."
Very sneaky. She tricked me into passing off her brother so that I would carry her to the car. Although, at this point I am used to this sort of manipulation from the girl. Then she smirks and says:
"That's right. You carry me across the parking lot."
Claudia doesn't even read my blog. She knows nothing of taglines (or in my case the disappearing tagline).
This must be that payback my Mom was talking about.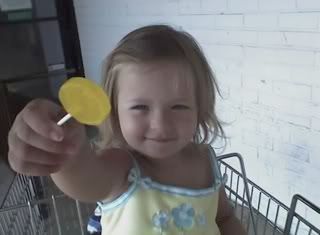 Comment Via Facebook
comments