If you read my blog regularly, you already know that The Goon Squad missed their first day of preschool last week due to barfing.
We're all healthy now, so today became their first day of school. We were all (me, Gabe, all four Grandparents, friends, neighbors, the teachers, the other moms in the class) worried that Claudia might have some issues with separation anxiety. As it turns out, after her teacher handed her a paint brush she just said "Bye Mommy!" and waived.
Who knows. Maybe they were dying to get rid of me. Maybe they told their classmates "Thank God we are rid of that woman. She drives us crazy, singing the A B C's all day long and pestering us about shapes and colors. Yelling all the time about not standing on the tables and what not. We are thrilled to have these (almost) three hours without her."
Nobody was worried about Ian. He hugged me and ran off to the hand washing station. It was painting day, so there was a bucket of soapy water set up when we got there. Ian washed his hands eight or nine times before I even left.
He also pooped before I left. So the teachers narrowly missed an Ian special. Yikes.
Gabe was in meetings all day, so right after I dropped them off I called my Mom. She asked me if I cried.
Hell no I didn't cry. I would have had a party, but I didn't quite have time. I did however have time to take a shower all by myself and have a cup of coffee in complete silence. It was lovely.
Then my plan was to go to the grocery store all alone, but alas, when I got to Giant it was gone. Gone. This is the second time in four months that I have gone to a grocery store only to find it completely empty. Whatever. So no grocery store.
I was actually starting to miss the kids anyway.
When I got there to pick them up (about 20 minutes early due to the lack food in empty space that used to be a Giant) their class was on the playground.
Ian saw me first and yelled "MOMMY!" and ran up and gave me a big a hug. Then Claudia (who is such a rock star that the teacher was pushing her on the swing) saw me and said "Mommy! You came back!" and ran over to me.
It was really sweet, and they were exhausted and hungry, and they didn't even have all that much paint on themselves. I think they had a good day.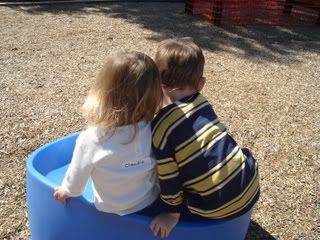 I can't wait to do it again tomorrow.
Comment Via Facebook
comments