We have another family living here with us.
A terrible tragedy has befallen these people.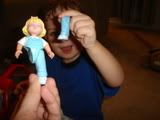 So here is where you guys come in. Do I throw away the broken toy or is this a good opportunity to talk about diversity? Should our dollhouse people have a amputee daughter? Or would I just be saving garbage? What do you think?
Comment Via Facebook
comments