Karen wrote a post about how she used to be a big loser where she admits to going to a New Kids on the Block concert. After I got done laughing my ass off, I started thinking about concerts I have been to that might not have been that cool in retrospect.
For example, one time I went to go see Strutter. According to Strutter's website they are "America's #1 KISS Tribute Band".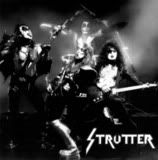 Ahem. So, now that we are all clear who they are it should make it even funnier that the fake Paul Stanley reached down into the audience and put his guitar pick right down the front of my shirt. It's true. You can ask Tammy. She was there. (In my defense it was even hysterical at the time.)
I also mentioned to Karen that one time I bruised my ribs at a Tesla concert.
Here is another gem. One time at a Cinderella concert, Jeff LeBar (Duh. he guitar player) sweat on me. I thought it was awesome.
Shut up. Like you were cool.
Oh, there are more. (Thank Ozzy that I can't find a the picture of Lori and me dressed in black spandex mini dresses on our way to the Death Angel/Forbidden show, or you might be looking at it right now.) But I'm not giving them all up that easily. Your turn. Tell me about your embarrassing concerts.
Comment Via Facebook
comments