Let's be honest. Really he just woke Ian up.
Okay, and while we're telling the truth he woke them up by calling my house.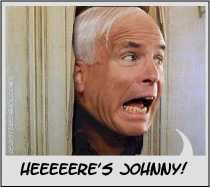 And right. It was actually a recording of John McCain.
He wanted me to vote Republican on Tuesday.
Listen here Johnny. If I wanted to re-elect a racist Senator I'd move to West Virginia or Tennessee.
Maybe that was uncalled for. But still, I hope that during the next election they stop letting them call my house. It's driving me crazy. Can I get on some sort of no political call list? Do they really think that I will be swayed by a recording that bothers me after my kids go to sleep? Or during dinner? Do they really think I am going to stand there and listen to their whole spiel?
Grrrrr.
Is it almost over?
Don't get me wrong. I am glad I get to vote. In fact I am taking the kids with me this year 1) because I want them to see the process and 2) I have no babysitter. I am just ready to be done with the insanity of this election.
That being said, I heard a political commentator on the radio the other day mention that at 12:01 on November 8th the 2008 Presidential Election begins. I'm guessing this is the part where living near DC gets really annoying. I hope the traffic gets worse! (That was sarcasm. It's hard to type sarcasm.) I'd better go buy some more advil.
(I found this picture on a site called American Dinosaur. It cracked me up.)
*** Updated – My phone just rang and I had to rush out of the bathroom to get the phone. It was Laura Bush. That's right. You heard me. Laura Bush just got me off of the toilet. I only got up because I thought it might have been Gabe or Lumpyhead's Mom. Not even close. Stupid First ladies always bugging me when I'm in the bathroom. (Shut up, it's not crass. I keep telling the kids that everybody poops.) Son of a…
Comment Via Facebook
comments