When we decided to move to the DC area, besides The Kennedy Center and good Chinese food, one of the things I was looking forward to the most was fall.
You see, I lived in Florida for 21 years. We didn't have four seasons there. Florida has two seasons – Hurricane Season and Slightly Less Hot Season. Don't get me wrong, I loved the weather in Tampa. I love the sun, I love the Gulf of Mexico, I have never had to drive in snow or ice. Still, I was excited to have an autumn.
A couple of months ago the leaves began to turn. I was so excited! I live in a fantastic neighborhood that has huge trees. Several of these trees are in my yard. Right when things started getting really pretty I took this picture to taunt my mother who still lives in Florida.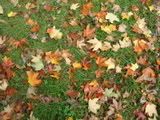 Fall truly is beautiful. The trees in Northern Virginia are red and yellow and orange and amazing. However, there were some things about Autumn that people failed to mention.
1) Raking is a Pain in the Ass. I know what you are all thinking. You are thinking Well, Duh. Fine. I admit it. I didn't know. I have actually spent little to none of my life thinking about raking, until this year anyway. I used only think about the trees in my yard if it was time to get them hurricane trimmed. Now I can't ignore them. Plus, if you try to ignore them, even for three days, your neighbors might come rake for you.
2) Wet Leaves Suck. Wet leaves are really scary to drive on. What happened to my traction? Plus, they are really hard to rake.
3) Fall is Cold. Since Spring was mild and lovely, I assumed fall would be mild and lovely as well. Not so much. It was 38 degrees here the other night. Did you hear me? I SAID 38 DEGREES! Oh sure, all you Canadians are laughing at me, but screw that. 38 degrees is cold. I had to use my fireplace.
4) Laundry. When it gets cold the laundry situation gets out of control. It isn't that we change more often, it is just that the clothes are so much bigger that I feel like I am doing three times as much laundry as I do in the summer. What the hell? Somebody could have mentioned this before I had two kids.
I can't wait for Winter. I'm sure it will be perfectly charming.
* Inspired by and written for Blogging For Books over at The Zero Boss.
Comment Via Facebook
comments