My real life friend, Michelle, has started distributing Dolca shoes and clothes in the United States. I just got these outfits from her.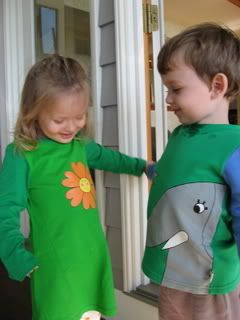 Michelle's son was born four days before The Goon Squad. We spent a lot of time waddling around Tampa together hugely pregnant. When I got stuck in the hospital with preterm labor and Michelle would come visit me in the perinatal unit the nursing staff kept thinking that she was me trying to escape.
Go visit Dolca USA and if you use the code gsquad Michelle will give you 10% off.
Dolca has been featured on Cool Mom Picks. Actually, you can go over there now and enter a contest to win a free dress or backpack.
The shoes in this photo are not Dolca Shoes.
(* This is an unpaid advertisement. I mean, looks at how cute the little flower dress is! In the interest of full disclosure, Michelle did send me the clothes for free, but in all honesty she knows that if she has another baby she is in line for my hand-me-downs.)
Also, look at this insanely cute picture of my kids kissing each other.
Comment Via Facebook
comments