I don't know if it is because my kids are two, or if it is because I am 33, or if there is just some sort of baby boom going on right now, but I know a ton of women who are currently pregnant.
This phenomenon has me thinking about what it was like when I was pregnant with The Goon Squad. I had two really bad aversions. One was to the smell of cinnamon. The other one was the smell of sponge. You know what I am talking about? I must have gone through thirty sponges thinking they were rotten. I think it was the sponge itself.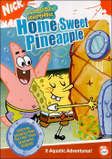 I craved pineapple. I honestly are an entire fresh pineapple every two days. It is kind of disturbing if you really think about how much fruit that actually is.
The whole Spongebob thing is a total coincidence.
I think.
I know people who couldn't even go near the deli counter in the grocery store because the smell of lunch meat made them so ill. My Mom couldn't stand the smell of food being grilled. What did you (or your wife) crave and/or have aversions to during pregnancy?
Comment Via Facebook
comments