I'm not ignoring you, I swear. It's just that for some reason I can receive e-mails at my Mom's house but I can't send any. I know it sounds like a lie, but it is true.
You see, my Mom got a wireless router so that I could use my iBook when we were down here and I don't know what happened, but her network doesn't like my SMTP path.
Or something like that.
Anyway, I'm sorry I've been gone for a couple of days but I was busy doing this.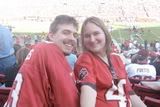 My point? (besides gloating that I was at the Bucs game and you weren't) My point is that I am on vacation and I can't work my computer and so if you get an e-mail from me sometime in two weeks that seems like I wrote it yesterday, I probably did.
Comment Via Facebook
comments