While I was driving from Ft. Lauderdale to Tampa on I-75 earlier today I saw a dead alligator on the side of the road. It really appeared as if someone ran into it. Can you even imagine how strange it would be to hit an alligator with your car? Nobody would even believe you. I wasn't even on the part of 75 that they call "Alligator Alley", I was way up almost to Sarasota.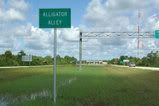 I hope I never break down near there.
A Short List of Things I Learned on this Trip:
1. It is best to charge your new iPod before you go on a five hour road trip all by yourself. If you cannot remember to do this, it helps if you can remeber to take your charger out of your car and put it into your mother's car (assuming, of course that you are driving your mother's car). Otherwise you get stuck listening to the suck ass radio.
2. Surprisingly I know almost all of the lyrics to "You Are the Sun, You Are the Rain". (I learned this as a direct result of #1.)
3. Wimauma, Florida has it's own Convention Center.
4. If you are trying to write down of all of the things that you want to write about for your next post by making a list in your Palm Pilot every time you stop, you will hit a lot more green lights than usual.
Comment Via Facebook
comments