By now you all know that my donut and mimosa playdate with Corinne and Beth was cancelled due to various maladies. Thankfully, Claudia does not have bronchitis. She just has a really mean upper respiratory thing that makes her cough like she's been smoking for years.
It also makes her mean like she just quit smoking. But that is neither here nor there. Do you want to know what we ended up doing this morning instead of eating and drinking and making merry?
I'll tell you, but first you need some back story. Are you at all familiar with this hat?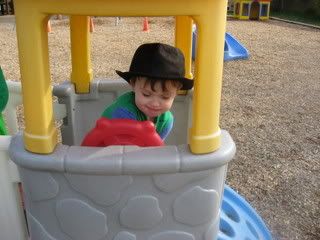 This is a picture of Ian on the playground in his "cowboy" hat. (Don't ask. He has always considered this a cowboy hat.) Ian has worn this hat and his cowboy boots pretty much everywhere ever since Halloween. Yes, the grocery store, the playground, school, the pediatrician, everywhere.
On Tuesday he wore the hat to school.
On Tuesday he left his hat at school.
This was bad news, but not the worst thing that had ever happened. They have school on Wednesdays too, so I figured we would just pick it up the next day.
On Wednesday morning Claudia had a fever. Our preschool has very specific rules. If a child has a fever they may not attend school until the fever has been gone for 24 hours. (This is also true for vomiting, which would explain why Ian went to about three days of school in December.) We decided to keep both kids home that day, not a big deal except, wait – the hat.
Oh, and it gets worse. Today is the last day of school until January 2nd.
So this morning I load up two kids, one sick and one traumatized by the loss of his hat, into the minivan and head off to the preschool.
Then it starts to rain.
Did I mention that my kids have a Tuesday/Wednesday class and another class of two year olds uses the classroom on Thursdays and Fridays?
I can't leave the kids out in the car so I get everyone out of their carseats and drag them through the rain into the school. Claudia starts to cry and freak out because she doesn't want to go to school. I explain (for the 12th time today) that we are going to school for a regular school day, we are just going to get Ian's hat.
We go to their classroom where 10 two year olds are going crazy. We're looking through the window and I don't see the hat anywhere. I finally wave down one of the teachers and explain to her what is going on. She hasn't seen the hat, but she tells me that there is a lost and found upstairs in the library.
I highly doubt that this hat would end up in the lost and found. Anyone who has seen Ian around the school knows exactly who this ridiculous hat belongs to, but I drag both kids up the stairs (which takes about 10 minutes) and go into the library. Of course, the hat is not there but I still figure it will be good to have this information for later. I decide to go back downstairs and see if maybe one of The Goon Squad's teachers left the hat in the little room behind their classroom.
We start the long trek back downstairs. This is a trip that would take you about 30 seconds, but with these two it takes forever.
On our way down the stairs we run into the director of the school. I really like this lady, but for some unknown reason Claudia is terrified of her. Every single time this woman comes near my child Claudia bursts into tears. It is so bad that Mrs. B tries to avoid the two year old class on Tuesdays and Wednesdays.
Mrs. B says hi. Claudia completely loses her shit. She is sobbing and she has her head buried in my neck and hair, and have I mentioned that Claudia has so much mucous coming out of her that I took her to the doctor yesterday? (Gross. I need another shower.) The good news is that Mrs. B (who knows exactly which hat I am talking about) suggests that we try the lost and found that is out on the playground.
It isn't out there. It isn't in the back room. It isn't anywhere in the classroom. I give up.
I explain to Ian that the hat might just be lost. He is very sad. Claudia is still sad because we saw Mrs. B earlier.
Ian is so sad that I decide to try to call his teacher. Of course, I am just leaving the school and my phone list is at home on my refrigerator. In desperation I call 411.
Not only is she listed, she is at home, and she has the stupid hat.
It is a Christmas Miracle!
She planning on bringing it by our house because she knew the kids were sick. (I love their teacher. She is one of the nicest people I have ever met.)
We drive to her house and get the hat and she gives the kids the little presents that they would have gotten at school yesterday.
Ian is thrilled. He sings "Riding the Range" all the way home.
We get home and he puts on his pirate hat.
Tomorrow morning I am going to just bash my head against the wall, because, you know, it's really the same thing.
How was your morning?
Comment Via Facebook
comments