Have I mentioned that my in-laws are better than yours?
Gabe's parents tooks the kids all weekend. They took them Friday night and brought them back Sunday afternoon. Here is what we did with our free time.
Before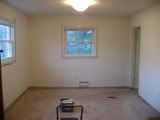 The carpet looks much better in this picture than it did in real life. Fortunately, underneath the nasty carpet there was a pretty decent wood floor. We had to do some work to it, but I think it tuned out pretty well.
After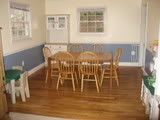 The dining room is officially the nicest room in our house now. Actually, it is so pretty it makes the rest of the upstairs look like crap.
Who wants to come over and help us pretty up the living room?
We'll buy the beer.
Comment Via Facebook
comments