Lumpyhead is going to be a big brother very soon. Since we are far too lazy to throw a real shower for his mom, how does everyone feel about a 'virtual shower'?
Mommy at Work peer pressured me into asked for my help co-hosting a virtual joke shower for Lumpyhead's Mom.
Here is what we need from you: send us a joke. Lumpyhead's Mom has taken to describing herself as fat and angry. We need to cheer her up. Please send your best joke (it doesn't have to be clean, this one is hard to offend) to gwufan at gmail dot com – or you can send it to satgs at cox dot net. Mommy at Work will tell LHM the jokes and we will post the ones that make her laugh the most.
Hurry up Shaq Attack*! This woman needs to get back to business.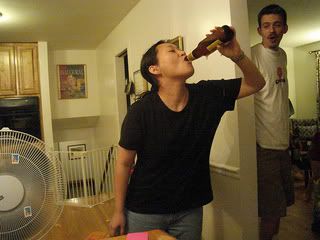 *Her parents have been referring to her as Aqutak, but since I can't say it, MAW and I have just been calling the baby Shaq Attack. I have a feeling that this one will stick no matter what they name her. I'm not kidding, they could name her after me and I would still call her Shaq Attack.** That little girl will grow to hate my guts one day.
**Except, I'll try really hard to call her by her real name in front of her Grandparents. I almost called Lumpyhead "Lumpyhead" in front of Bump's Mom one time. You know how Grandmothers can be. I was afraid she would punch me for insulting her grandchild.
Why are you reading all this crap? Send a joke already, would ya?
Comment Via Facebook
comments