This picture is freaking me out.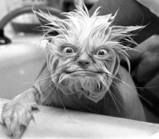 Rollin' With Saget. (I found this on The Art of Getting By)
Devra sent me this. Don't overuse your navigation system.
I found out why I think about Rosie Perez every time I watch "Go, Diego! Go!" She is Click the camera. And all this time I thought it was somebody doing a bad impression.
Comment Via Facebook
comments