You are supposed to sing that title to the tune of either "Born in the U.S.A." or "Banned in the U.S.A." depending on which one you think is funnier.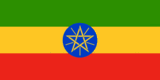 Either way, my friend Mark (I still haven't been able to figure out why he is wrestling a donkey in that picture) is currently working on shooting a movie somewhere outside of Addis Ababa, and he says that the Ethiopian government has banned Sarah and the Goon Squad.
I feel like such a bad ass.
Comment Via Facebook
comments