Here is a question for you other bloggers out there:
Do you ever go to some boring everyday function (like a fundraising meeting or the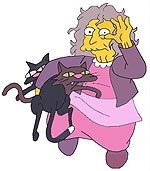 pediatricians office) and see someone looking at you funny and wonder if they know you from your blog or if they are just looking at you like that because you took a shower and went to sleep on wet hair and you look like Crazy Cat Lady?
Just me?
Fine then. How about this… have you ever been at a regular non-blogging function and been recognized? Or have you ever been somewhere normal and recognized another blogger?
I haven't. Yet. But I look for you people at the grocery store… consider yourself warned.
Comment Via Facebook
comments