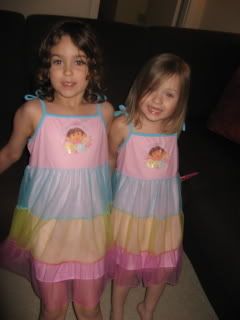 If cute could kill, I would have died last night when Claudia and her cousin Zoe put on these matching Dora nightgowns.
I'm serious. This isn't even the cutest thing that they did. There was some dancing.
I have a cousin that is two years older than me. When we were little I always wanted to be like her. When we wore matching clothes I always felt so cool. I hope that this feels the same way for Claudia.
I would post a picture of Renee and Me wearing matching leotards (we always used to make up dance routines or shows and force the entire family to pay money to watch them) but I am not home and so I don't have access to all of the old pictures that I stole from my Mom's house all of my photographs.
Instead, I give you: a picture of Ian wearing funny nose glasses.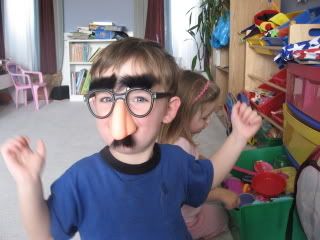 Not bad, huh?
I know, it's no three year old Sarah in legwarmers, but it's still pretty funny.
Okay, I've got to go talk my Mom into buying me some shoes quick before we go back home. I know there is a store really close to my brother's house where I can get the pair of Keens that I have been eyeing.
Wish me luck.
Comment Via Facebook
comments