Lance has been pestering me to put up the picture of me playing my Hello Kitty guitar that I promised back in February. I've been putting it off because 1) I really don't shower nearly as often as I'd like to and 2) I keep forgetting to have someone take the picture of me playing it.
Lance said that bathing was not necessary since rock stars are usually greasy and Beth came over this morning and she was kind enough to take a picture of me rockin' out.
My hair is doing it's best Trent Reznor impression:
As a bonus, here is a picture of one of the picks Lance sent me to match my guitar (it's fuzzy because it is a hologram. I know you are jealous.):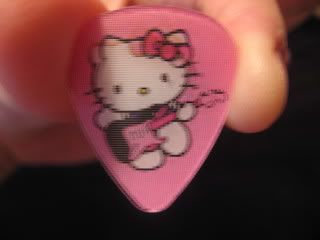 ___________
I also owe Tony this meme from weeks ago. I'm supposed to list seven songs I'm into Right Now This Very Minute. (They're not my capitals, I copied and pasted that sentence directly from Chag's site.) Since I don't know crap about what is cool right now, I have no choice but to tell you the truth.
Here goes:
Do these links even work? I have no idea what I am doing.
Comment Via Facebook
comments