I told you that I've been going to the library like crazy, right? Yesterday I went when the kids were at school and I thought I hit the jackpot.
Yeah, the word thought in italics is foreshadowing.
Ian and Claudia have really been loving "Green Eggs and Ham"
, and Ian loves pretending to cook and helping us cook and cookbooks in general, so when the childrens librarian showed me the "Green Eggs and Ham Cookbook"
I knew Ian would go nuts and love it.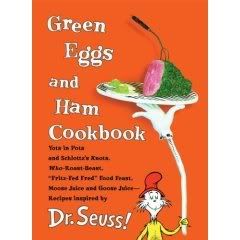 I brought it home and he did love it. He took it with him in the car when we went to the store, and he took it over to his grandparent's house for dinner and carried it around all day.
I thought what a great job I did getting a book he really like.
Then I started looking at the recipes.
They were really complicated and most of them didn't look to tasty. Oh well, I thought, at least he likes the book and he gets the idea, I think. The recipes all have clever Dr. Seuss titles like "Pink Yink Ink Drink" and "Schlopp with a Cherry on Top".
Then I got to page 35. Page 35 has a recipe for "Schottz's Knots".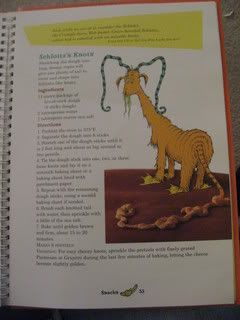 It looks like this.
This picture makes me want to vomit. What is it? Diarrhea? Entrails? This animal seems to have some dort of intestinal distress. I mean – the book says it is bread-stick dough, but I certainly wouldn't eat anything that is coming out of that animal's ass. Would you?
I think I'll return this book tomorrow.
I don't know how someone is supposed to be able to eat at all with a picture like this in their home.
I can't help wondering if this Schlottz are the Zan's Can Chili.
Ugh. I just grossed myself out.
Comment Via Facebook
comments