I was at the grocery store yesterday (No big shock there. I spend a very large percentage of my waking hours at the various grocery stores lately.) and when I was checking out I got carded.
Hooray! I'm 34 years old and I love being carded. I mean, who wouldn't? Remember those commercials or maybe they were public service announcements about carding people for alcohol and they said something like "I.D. people, you could make a 35 year olds day"? Anyway, I have become the lady in that commercial.
So I thank the cashier and he starts telling me how young I look then going into some strange speech about taking care of yourself while I bask in my compliment.
I was feeling pretty good. Then there was an odd non-English exchange between the cashier and the bagger. The bagger looked at me and pointed to a 12 pack of beer and said "These are both for you?" Then there was some more non-English conversation and the cashier translated for me "He thinks you drink too much".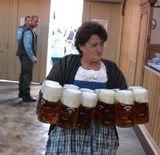 Oh.
Okay, I was feeling pretty good about myself and now I feel kind of like an alcoholic. I mean I was only buying one bottle of wine and two twelve packs of beer.
Come on! It's almost Cinco de Mayo. Corona is on sale!
(That isn't me in the picture.)
At this point I didn't know if I should go with the happy youthful feeling or the Mom that is buying two twelve packs and a bottle of wine on a Thursday night feeling. Gabe says the whole thing is a wash so it is okay to act as if nothing happened.
Besides, we only drank the bottle of wine.
Comment Via Facebook
comments