Mrs. Chicky tagged me for a Mother's day meme, so I started this whole lovely post honoring my mom, but then I Mother's Day came and went and now I feel stupid posting it, so I'm skipping it. (Sorry Mom and Mrs. Chicky)
In fact, while my Mother's Day was lovely, it was eclipsed by The Goon Squad's third birthday.  I'll have more pictures later, but first I wanted to show you guys something that just couldn't wait.
Ian and Claudia had a Dora the Explorer themed cake. This is a picture of the cake topper.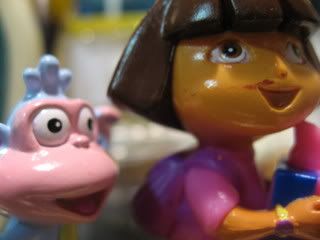 Doesn't it look like Boots just gave Dora a dirty sanchez?
Gabe thinks it looks like Boots is about to give her a donkey punch.
Ugh. Now go win us each $1000 on blingo. My children are going to need the money for therapy.
Comment Via Facebook
comments