Guess what I did first thing this morning?
You'll never guess in a bazillion years. Well, maybe in a bazillion, but I doubt if you would guess any time soon so I will just tell you.
I was standing in front of my closet perplexed. I went shopping on Sunday and I could have sworn I bought a red shirt at Ann Taylor. (Don't get me started, Ann Taylor pisses me off but I like their clothes. I wish I didn't. I hate stores that have petite sections and not tall sections. I think it is heightist.) I looked through my closet five times before I realized that I didn't remember putting it away.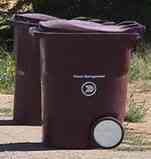 I knew what I had done. Son of a bitch. I threw it away with the bag. Today is trash day.
At 7:40 this morning I was out at the end of my driveway retrieving a $40 shirt with tags still on it out of my garbage can.*
I wonder what my neighbors will have to say about this one?
* No, I didn't wear it.
Comment Via Facebook
comments