If I am telling you too much, I apologize in advance. I just don't know who else to tell when my gynecologist tell me that I have a perfect pelvis.
A perfect pelvis? I had no idea. I was very flattered.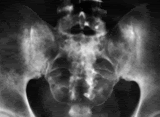 Of course, she had to go and wreck everything by telling me that I had gained a lot of weight this year.
As if I hadn't noticed.
I was all set to blame my medication, which can be responsible for that kind of thing. I was hoping she would feel sorry for me and give me some Phen Phen help suggest a diet supplement or something. But no, she told me to eat less and exercise more.
Then to add insult to injury, she said that when we get older sometimes it just gets harder to maintain a healthy weight.
First she says I'm fat and then she says I'm old… I won't even go into what else she did to me. I left the office feeling pretty bad about myself.
But at least I have a nice pelvis. Whatever the hell that means.
(That picture is not my pelvis. I can only assume mine is better than this one.)
Comment Via Facebook
comments