No, our TV didn't suck me in. In fact, it completely died and we had to buy a new (and way cooler) television set.
The tv didn't try to hurt me at all, but this almost did me in.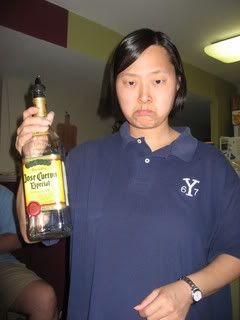 I don't really want to talk about it anymore, but I will say this it was indeed a bottle full of bad ideas.
We've been busy playing tourist with company and end of the year stuff for preschool. We spent Saturday on the mall with our friends Lora and Matt and I didn't get one single picture of the four of us. Instead, would you like to see a cool picture I took of the Washington Monument?
We've also been potty training. Well, potty training Claudia. She has peed in the potty every day for a week now. No more diapers for her, she is in either a Pull-Up or underpants all day long now.
Did I mention my superfly new friend Clare (Hi Clare!) sent The Goon Squad a bunch of Pull-Ups so that we could try the different kinds? Claudia likes the ones with "Learning Designs". I guess the pictures are supposed to fade when they get wet, but she has been doing such a great job keeping them dry that I hadn't even noticed.
We are also finally caught up on all three seasons of "Project Runway" so now you can feel free to talk to me about it.
Yes, I know I am a dork. Need more proof? I went and bought Guitar Hero 2
(which I am hoping will beeasy to follow having never played Guitar Hero 1
). Now if I can figure out how to hook the thing up I am going to go shred.
Comment Via Facebook
comments