Dear Internet,
Please excuse Sarah for her absence this weekend. She is still trying to potty train The Goon Squad, she went and bought a bridesmaid's dress, helped Claudia try on flower girl dresses, she finally finished this book (meh)
, and Sarah and Gabe (but mostly Gabe) are painting all of their kitchen cabinets. That means going to Home Depot a lot.
Sincerely,
Sarah's Mother
____
Also, I started writing stuff for here, which you can read here for now, which I suppose is technically the internet and there fore I wasn't actually absent, I just wasn't in my assigned seat.
____
In addition, Gabe made some barbecue this weekend. (Preseason football, my friends.) Anyway, he made this very brown barbecue sauce and I made the mistake of saying how it looked like R.C.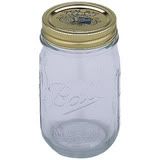 Gabe: (puzzled) R.C. Cola?
Me: Yeah, you know how you used to drink R.C. out of mason jars at PoFolks?
Gabe: You drank R.C. out of mason jars at PoFolks?
Me: Yes. PoFolks only had R.C.
Gabe: PoFolks? You can never make fun of me for anything again. Ever.
It's not just me right? You guys had to drink R.C. out of mason jars at PoFolks too. Right? Back me up here. I don't want my husband to think I am some sort of crazy cracker hollering about them Duke boys.
I can't believe I just typed hollering. I swear I never use that word when I am speaking aloud.
Comment Via Facebook
comments