We were at the beginning of school playgroup yesterday. Most of the kids in the Goon Squad's class this year were in their class last year too, but there are three little girls that we in the other 2 year old class that are now a part of our class.
One of the moms that I know pretty well was introducing me and the kids to a mom I didn't know yet. She was saying "…Claudia will be the best dressed in the class…"
At first I was in shock. I briefly thought she was using sarcasm. I really don't know shit about fashion and I am usually in charge of dressing Claudia. Then I remembered – Claudia usually picks out her own clothes and I had all of those great Dolca dresses last school year and she always wore them with babylegs and so she really did look adorable everyday.
So, I would like to take a moment, on Claudia's behalf, to thank the following people:
Thanks to my friend Michelle. She is the one that introduced me to Dolca and baby legs and she hooked me up with fabulous discounts.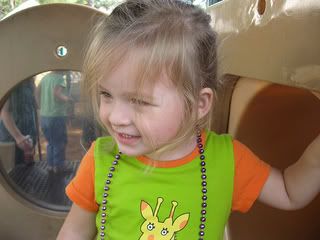 Thanks to my neighbor, Janet, for giving me all of her hand-me-downs. Her daughter always looks great.
Thanks to all four of Claudia's grandparents. In all honesty they buy most of her clothes.
I'd like to thank BOSSY. Even though I actually bought this shirt, it was a huge hit on the playground today. If you suddenly sell a whole bunch of 3T "I am bossy" t-shirts in Northern Virginia, you owe it all to Claudia.
Comment Via Facebook
comments