In The United States today is Election Day.
Obviously (if you are me anyway) I have had that Arcadia song
stuck in my head all day.
This is the part of the post where you are going to have to pay attention in order to follow my train of thought. In 1985 Simon LeBon, Nick Rhodes and Roger Taylor from Duran Duran formed a side group. This band was called Arcadia (John Taylor and Andy Taylor formed The Power Station with Robert Palmer and Tony Thompson*). Arcadia wrote the song "Election Day
" which plays in my head on a continuous loop the first Tuesday of every November.
So I've been thinking about Duran Duran and something that has been bothering me for a couple years now.
I used to be a Durany (Duranee?). Yes, before I got into hair metal (and then Death Metal) I openly worshipped Duran Duran. The walls of my bedroom were covered with pictures of John Taylor that I ripped out of Tiger Beat.
Here is my point. I used to think that Duran Duran was super deep. (Cut me some slack, I was in the 6th grade.) Read these lyrics from "Last Chance on the Stairway".
Funny it's just like a scene out of Voltaire, twisting out of sight
'Cause when all the curtains are pulled back
We'll turn and see the circles we traced?
Ain't no game… (oooh)
When you're playing with fire
It doesn't seem right that we fight
So the party runs on all night
And sometimes I'm caught in a landslide
My beat's so in time can you look at me
I'm out of reach I'll talk if it feels right
So nervous to say, tell me can't you see
If you want I'll fall out forever
I can't say no more… babe dance with me
And please don't say leave till later
I've had my last chance on the stairway.
Right. So as an adult that has actually read Voltaire I realize that this is pretty much garbage. And much like seeing that stupid reality show when Tommy Lee went to college this is cheapening my childhood. I want this song to mean something, but now all I get out of it is "babe dance with me", I detest the word ain't and crap, I wished I hadn't wasted my time reading "Candide
" because wasn't it kind of a stupid book?
Fine. Now I am going to go vote to show my children what a responsible citizen I am all while feeling old and disillusioned. And you can look at this picture of John Taylor in a fedora.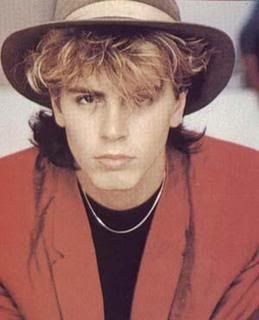 * Is it messed up that I didn't need to look any of that up?
Comment Via Facebook
comments