Do you want to know what rules about being back at the house you grew up in for Thanksgiving?
When your son's cool new "binoculars":
Turn out to be your autographed Paul Gilbert (of Mr. Big and Racer X fame) poster, circa Cereal Killer.*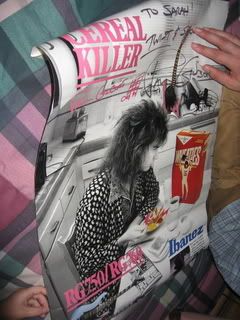 Then your husband makes fun of you a lot for being such a dork.
And you know you deserve it.
– Have a great Thanksgiving.
_____________________
* And yeah, it says: "To Sarah, Twist and Shout". So I am not the only dork, am I Paul Gilbert?
Comment Via Facebook
comments