I am sick to death of Brad Pitt.
I think it is lovely that he is trying to rebuild New Orleans. I think it is fantastic he is trying to adopt the entire third world. I think he is a really good actor.I think he is super hot.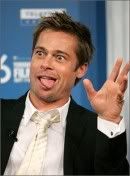 That being said – I'm sick of hearing about him. I can't even buy groceries without seeing his face on every single tabloid in the store.
Can we all just take a break from Brangelina? Let's talk about something else. Or someone else. There are other people trying to save the world too.
Aren't there?
Please tell me there are other people helping out the less fortunate. It can't just be the pretty people.
Comment Via Facebook
comments