You know how I always say that if all of my friends jumped off a bridge I would too? Well, Neil from Citizen of the Month has this theory that everyone is interesting. He decided to do this experiment where everyone that wanted in and commented would interview the person who commented right after them.
This was really cool because I found a great blog that I had never read before. If you get a chance go check out The Life and Times of Chantel she has beautiful pictures and a great sense of humor. I would tell you all about Chantel, but I will let her have that honor.
1) In one sentence sum up what your blog is about.
My blog is about where I've been, where I'm at and where I'm going.
2) You have a lot of fantastic pictures on your blog. What kind of camera do you use?
I use a Panasonic FZ8 (this one is not as fancy as professional photographer but I've never claimed to be a professional). I was previously using a Sony Cyber-Shot.
3) Why do you blog?
I started blogging when I started writing a book; I've kept it up. The blog has evolved and now I do it because my ADD compels me to. I write because I have no choice. I write stories because you read them.
4) Who is your favorite author? What is your favorite book?
My favorite author is a Poet. Leonard Cohen — However, my favorite book is very difficult to sum up. I spent two years as a child homeless; for most of that time my parents would leave us at the public library all day while they searched for work. There, I found my solace and imagination in the stacks and stacks of books. I don't write poetry except for a short time in High School but I found its one of my favorite Genre's.
Since you're holding a gun to my head – my favorite book: is 100 Years of Solitude
5) If you could only listen to one cd for the rest of your life which one would you choose? (mixes not allowed)
Probably something by Def Leppard for the teenager inside of me; they were my first rock band. I love them and I've been known to be loyal to my own detriment.
If you were asking as an adult it would probably be Kruder & Dorfmeister's K&D Sessions (this isn't necessarily a mix but they do a lot of techno sampling).
I listen to a lot of ambient techno music because it suits my mental state most of the time. Lyrics tend to piss me off so instrumental music is my preferred music.
6) You seem to have lived in/visited a lot of different places. What is your favorite city? What place did you hate?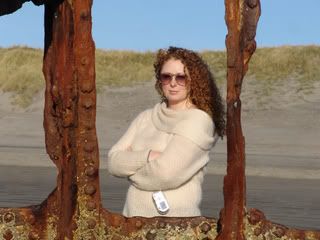 My favorite city is very cliche.I love everything about Paris, the food, the art and how I feel when I'm there. I feel anonymous or new depending on what kind of mood i'm in. I feel inspired when I'm there and I'm the kind of person that needs to be inspired to wake up in the morning.
I moved a lot as a child because we were homeless and very unstable. I can't say I hate anyplace but, I've been in a few places that are nothing but painful memories and I would not choose to return there unless the future of the human race depended on it. I went to Yakima Washington for a bowling tournament once and well that was a pretty rotten place. I'm pretty sure I punched my then, asshole boyfriend in the face when I was there too!!
7) Name three movies you could watch over and over.
The Pillow Book
Gone With The Wind
Love Song for Bobby Long
Each of these movies is full of lush imagery and dialogue. As you can tell I'm one of those people who need to use all five senses in everything I do. I need to see, touch, hear, feel and experience anything to really, "get it".
8) If I came over to your house for dinner what would you cook for me?
That depends on if you're a vegetarian.
If you're vegetarian I would cook a dish I recently invented for other vegetarian friends of mine.
Polenta layered with porcini mushrooms, roasted red peppers, mozarella, & a balsamic vinagarette.
Carnivore:
If you're a meat eater you could have any assortment of dinners that my daughter and I would prepare. More than likely if you've never had southern food my daughter and I would whip up some Fried Chicken, mashed potatoes, stewed greens and cornbread. We feel its one of those meals that makes you a better human being.
9) What is your very favorite blog? Have you ever met anyone through blogging?
I still read a few blogs that I found when I first started blogging four years ago. Those are generally still my favorites. If you're on my blogroll you're more than likely a favorite (Please see Def Leppard loyalty comment above). http://www.lifeandtimesofchantel.com/blogroll/
http://www.petiteanglaise.com/
http://www.citizenofthemonth.com/
I've actually met a lot of people through blogging. I met Neil & Sophia at TequlaCon in Portland last year. I've met a lot of ladies at BlogHer two years ago. One of which now lives in Portland and we are friends. I'm going to SF this weekend where I hope to meet up with a couple of other lovely Bloggers.
10) Are you planning on going to BlogHer this year?
I would really hope to attend but we'll have to see how my finances are for that weekend. I really enjoyed BlogHer when I went last time.
11) What is the strangest search term that has ever brought a visitor to your blog?
"Grandma Porn" is one of the most popular search terms. Here is the post they find when they arrive. http://www.lifeandtimesofchantel.com/journal/2005/10/13/my-grandma-owns-a-porn-store.html
I don't mind the boob search terms or the other gross foot fetishes but for some reason; "Grandma Porn" really bothers me.
12) Is there anything else you want my readers to know about you?
Yes, I don't normally wear matching socks and I might love my dog more than my kids.
____
I'd like to thank Chantelfor putting up with my weak questions (It has been a hell of week over here with the tonsillectomy and the adenoidectomy) and thank Neil for hosting the whole shebang.
SecondHand Karl got to interview me. You can read that one over at his place. He called it Desperately Seeking Sarah.
You can check all the rest of the interviews out over here.
Comment Via Facebook
comments