My head is pounding so hard that I can hear my pulse. Both of the kids are home sick from school again. If you do the math that means my children have attended school for exactly one half day in the last three weeks. Instead of complaining about this (today anyway) I give you Randomness.
Is it just me or is Anne Rice way creepier since she found the lord?
Speaking of creepy (but this time I mean it in a good way) check out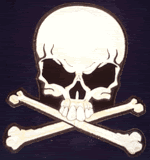 Skull-A-Day. It is exactly what it sounds like a new skull every day! (Thanks to Christina at Life in Omaha for the link).
Can't we make Super Bowl Monday (the day after the Super Bowl) a national holiday? We could trade it in for Arbor Day or President's Day or something.
Most of my readers (or at least the ones who comment) seem to have the middle name Jean.
Comment Via Facebook
comments