Oh. Good. God.
So I go to the doctor. Well, we go to the doctor. (Just one of the joys of being a stay at home mom.) As soon as I check in Claudia has to pee in the potty. Don't get me wrong, I love it that she is peeing in the potty (finally) but it occurs to me that she is much more likely to pee in the potty if we are in public. The more inconvenient it is the more she is potty trained.
She successfully pees and her brother successfully washes his hands three times for no apparent reason.
We go back into the office and eventually they call us in.
I am thinking that this is going to be pretty simple. I tell the nice man that I coughed so hard that I pulled a muscle and he will give me some cough medicine with codeine in it and we will all be happy.
Not so.
He asks me about 1000 question then tells me I need to go downstairs to get an x-ray. They want to make sure that I don't either have pneumonia or a hole in my lung.
A HOLE IN MY LUNG? Holy shit. Really?
So the kids and I go down to the radiology center and as I am filling out all the forms for this place the lady at the desk asks me if I have anybody with me to watch the kids, because they can't go back with me to get my x-ray.
Now three of us are panicking: me because what the hell am I going to do with my kids, Claudia because she has no interest in staying in the waiting room with a bunch of strangers while I go in the back, and Ian because he is set on seeing what I look like on the inside.
I do the only think I can think of to do. I call my in-laws. I don't even know if they are in the state or not. Amazingly, they have just arrived home and are immediately available and live five minutes away.
This is part where I brag and tell you that I have the best in-laws in the universe and everybody should have married Gabe. I encourage all single people to rush out and try to marry Gabe's sister immediately. No joke. There is no way I could have done better in the in law department and I fell in love with Gabe before I even met these people.
So, Gabe's parents show up at the radiology lab less than 10 minutes after the lady (who looked so much like Petunia that I couldn't help staring) told me that I couldn't take the kids in with me. Then they whisked the children off and fed them lunch.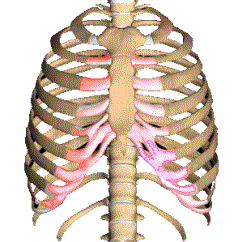 It gets very boring from here on out, but I will tell you this:
1) It took to long that I missed my 1:00 conference call.
2) I don't have a hole in my lung or pneumonia.
3) I got my cough medicine with codeine. (Woo hoo!) Plus a prescription for Motrin and an antibiotic.
4) I was diagnosed with costochondritis* which is an "inflammation of the cartilage that attaches the ribs to the breastbone". It is both gross and painful, but thankfully not a big deal, and I will live.
5) I'm already feeling better. I should have gone to the doctor last week.
* Not to be confused with Costcochondritis, which if I'm not mistaken is what happens when you go to a Warehouse Club to buy toilet paper and a big ass thing of dog food and you come home with 12 DVDs, a huge multi-pack of twix bars, a set of towels and a new couch but you forget the toilet paper.
Comment Via Facebook
comments