Man, February sucked, huh? My family was sick all month. Seriously, the flu, pneumonia, costochondritis, sinusitis… I am so glad it is March.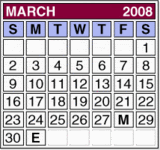 March 1st, 2008 – I am standing in my kitchen in front of the pantry just browsing. I know I want something to eat, but nothing looks that great.
That is when my doorbell rang. I almost didn't answer it. I wasn't expecting anybody and I was nervous that it was either Jehovah's Witnesses or my crazy neighbor.
But joy of joys! It was a young angel bearing girl scout cookies.
I love March.
Comment Via Facebook
comments