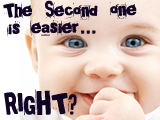 You may have heard that my lovely lady friends Mrs. Chicky, Her Bad Mother and Chicken and Cheese are all within moments of having their second children.
You know how this works by now, right? Mother Bumper and the ladies from Cool Mom Picks are throwing a virtual baby shower (with prizes!)
They have asked for my favorite ass/advice on having a second child.
Heh.
As you may or may not know I had my second child a whopping two minutes after the first so I'm not very clear on what it would be like to just have one baby. Or toddler. Or crib or car seat or pack n' play or… well you get the picture. But as a veteran parent of two children I can offer this: What works for one won't necessarily work for the other one, don't panic and just do whatever you can to comfort/discipline/potty train/get to sleep/feed each child as themselves.
Having two totally different children is one of the great parts about being a parent. I have learned a lot from these kids.
For example, I have completely reversed my opinion on nature versus nurture.
Quick aside: Last week I took the Goon Squad to South of the Border. For those of you that have never been it is like the crappiest gift shop imaginable all jacked up on steroids. I let each kid pick on thing to buy. Ian picked a squirt gun (after I nixed the sword and shield combo) and Claudia chose a princess tiara. Who would have guesses that two kids growing up with the exact same toys would end up such a girly girl and such a BOY?
Anyway, don't listen to all the assvice about how things have to be done a certain way. While you may have gathered this information on the first go round just keep in mind this mantra: WHATEVER WORKS.
And yeah, the beginning will probably suck, and yes, they will fight at some point. Probably a lot. But they will also eventually play together giving you free time to do laundy or cook dinner or participate in virtual baby showers.
Now. Look at my babies.
Comment Via Facebook
comments