This morning we were sitting in traffic on the way to preschool.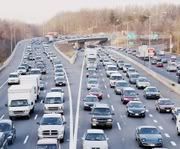 "Look Mommy! We're in a car parade!"
I have to say that this is a much healthier way to look at it. It really takes the stress out of a traffic jam.
I don't think the lady wildly gesturing in the car behind us knew that it was a parade. Or maybe she was just really bad at the "queen wave" (You know, wrist, wrist, elbow, elbow).
Comment Via Facebook
comments