I don't know what is going on. Maybe it is the weather, maybe I am getting sick, or maybe I've been drinking too much red wine but I have been sleeping unusually soundly.
For the past week or so I have been waking up with at least one limb totally asleep. It is as if I haven't moved in hours.
Last night Ian woke me up because he wanted water. I went and got him something to drink and I stopped in the bathroom on my way back to bed.
Now I don't know if I fell back to sleep while I was peeing or what, but I do know this: I got confused as to which bathroom I was in.
How is that even possible? It isn't as if I have 12 bathrooms in my house. There are just the two of them upstairs and only one of them is connected to my bedroom.
That is the kind of sleeping people do when they end up peeing in a rocking chair in the middle of the night. (I know someone who did that once. Forgive him, he was just a little kid.)
That reminds me of a hilarious story. During my last semester of college I lived with my friends Tammy and Ritch. Tammy was in grad school and she had a job but Ritch and I were only taking one class during the Summer B session so we had a lot more free time on our hands.
One night Ritch and I went out for nickel beer night. (Not as destructive as quarter pitcher night, but still…) The bar itself was fairly uneventful but according to Tammy, Ritch got out of bed that night and urinated right in the corner of their bedroom. She saw the whole thing go down.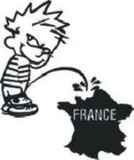 I'm sorry to bring it up again because I know Tammy is still mad (and this was 13 years ago. Dear God I'm getting old.) but it cracks me up every single time I think about it.
Oh! Quick informal poll: How many of you know somebody that has gotten drunk and peed on their tv? I know two people that did it and Gabe knows one. You would think it would be a less common phenomenon.
Wasn't I just talking about sleep? What happened? My posts always seem to end up being about bodily functions. I'd like to apologize to each and every one of you.
Sorry about that.
So tell me a funny pee story. Or retell me the one about Najeh Davenport pooping in a hamper. That one never gets old.
__________
The lovely ladies over at MamaPop (being one man down since HBM had her baby yesterday) asked me if I would write a guest post. Who am I to refuse a platform to complain about Hell's Kitchen and profess my love for Top Chef?
You can find me over there late this morning.
Comment Via Facebook
comments