I may or may not have told you this story before but for some reason I feel like telling it. (If you already know this story feel free to skip this post.)
I went into labor at the 28 week mark of my pregnancy. It wasn't hard labor but the contractions were causing my cervix to dilate meaning that if at any time I were to actually start having major contractions the babies could be born very quickly. Because of this I was put on hospital bedrest.
I was in the hospital for the very last episode of "Friends" ever. I used to love that show. For a while (back in 1995 – 1996) I wouldn't miss an episode. I used to get mad if people called me between 8:00 and 8:30 on a Thursday night. But truth be told by 2004 I was completely over it and I had absolutely no intention of watching the finale.
I was happily watching an NBA playoff game when one of my nurses came into my room. She was very excited. She couldn't wait to watch the stupid "Friends" finale. I really liked this nurse and I didn't want to disappoint her. I knew she didn't have a television at the nurses station and that she was stuck monitoring my contractions for at least 30 minutes. (I had to do that twice a day. If I had more than six contractions in any hour I was given a shot of terbutaline to stop the labor.) I felt sorry for her and I turned on the much hyped show.
I hadn't watched "Friends" in a while and I did not know that Monica and Chandler were expecting to have a baby though a surrogate.
Somewhere during the episode the twist came into play. There were two babies. Monica and Chandler were going to have twins.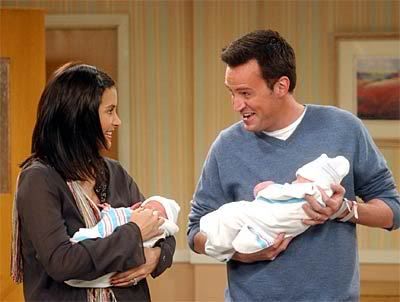 So while this episode is on I am having contractions. I am having a lot of contractions. My nurse gave me the shot and they didn't stop.
But I'll tell you this – I was damned if I was going to have twins on the same day as Monica and Chandler did. How lame would that be? They weren't even real people.
I was panicked. It didn't seem fair. I was going to live the rest of my life as the person who had her multiples at the same time as the Geller-Bings.
Screw that.
Somehow I managed to keep the Goon Squad in my body for seven more days. As unpleasant as the delivery was, at least it was ours alone. No one even mentioned "Friends".
And now you know how my mind works.
Comment Via Facebook
comments