The Goon Squad and I were on our way to the grocery store today when I found myself in one of those predicaments.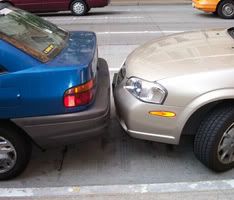 Somebody was tailgating me.
I don't mean the awesome party before the football game with beer and bratwurst. I mean the kind where some punk in a tiny little midlife crisis Saturn Sky was all up in my business. He was waaaaaay to close. I could hardly see him in my rear view mirror.
So I did what any would would do. I slowed down.
We played that game for about one minute and then – in a wide, but only one lane in each direction street – he passed me on the right.
I was pissed. For one thing he turned into a shopping center parking lot about 1/10th of a mile later but also, and more importantly, my children were in the car.
Then I turned into the lioness.
I used to be a very confrontational person. I used to pick fights with strangers. I mean, only if I had a reason, but I was never one to let things go. Then I had twins and I learned about patience.
So anyway, I was mad at this douche who put our lives in danger so he could be cool and pass me.
So I followed his little green convertible ass into the parking lot. And I followed him to his spot.
And then I blocked him into his parking spot and rolled down my window.
Then I waited while he put up the top to his car.
"Hey! That was really dangerous, and I want you to know I have two little kids in my car and you could have killed us."
"I…uh… sorry. I late to flight."
"You could have seriously hurt somebody."
"I sorry. I lose my flight."
"You are late to for flight? So you stopped at the Micro Center?
He nodded.
"You have plenty of time to put the top up on your car but you had to PASS ME IN MY LANE? ARE YOU CRAZY? YOU ARE GOING TO KILL SOMEBODY DRIVING LIKE THAT!"
He apologized again, but what a jackass. What I didn't tell him was that my Minivan could have smashed his little plastic car and had I been alone in my big steel vehicle I would have attempted to run him off the road.
Because I am PMSing. And that would have been hilarious.
But I seriously think what made me so mad was that the kids were in the car with me. He risked the lives of my children. It is my job to protect them and I feel like I did that today.
And I know I am a good mother because I didn't go key his car after he went into the store.
That would have set a bad example.
Comment Via Facebook
comments