My friend and blog idol Tanis (you probably know her as Redneck Mommy) brought home a bouncing baby boy yesterday. Okay, well he might not technically be a baby. He is five, but either way he was welcomed home as part of her family for the first time yesterday.
Now, since Tanis has this mothering thing down and since her new baby is already potty trained, we are throwing her a proper redneck shower.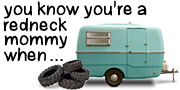 Aside: I was shocked when Tanis turned out to be Canadian. I didn't know Canada had rednecks. I thought it was America specific. I was actually relieved to know that there are rednecks all over North America.
Now, how am I a redneck Mommy?
Well, there is this.
and this. (seriously, click the link. You won't be sorry.)
Congratulations to Tanis and her whole family.
I've got to go break up a cat fight. No, really. My cats are fighting. I guess there is a little bit of redneck mommy in all of us.
Comment Via Facebook
comments