I've actually had this shirt for a while, but I wanted to do something intersting. I thought maybe I would wait until I could get a picture of me in my fly Dad Gone Mad t-shirt in front of the Washington Monument or something cool like that.
Then I realized I never go downtown.
And I'm not very clever.
So yesterday I decided to try to get a picture of me in my DGM shirt in my natural element.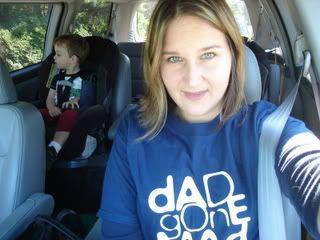 I took exactly 117 pictures of myself, most of them were on the way to the grocery store. Some were IN the grocery store, but I think people were getting nervous about the crazy lady with the twins taking pictures of herself in front of the beer cooler. Most either weren't in focus, I wasn't even in them or you couldn't see the shirt. But some came out okay.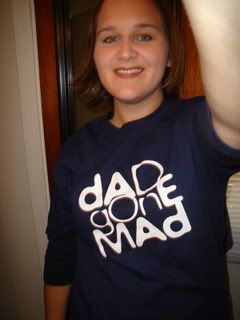 This one too: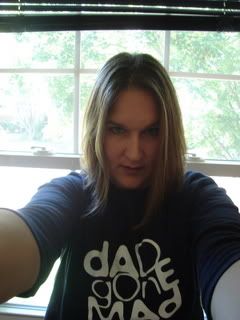 The Goon Squad also reads DGM. Well, okay they can't technically read yet. I read it to them. Especially posts like this. Here, Ian models the back: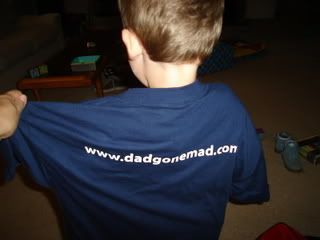 Claudia doesn't find Danny very witty. She thinks he uses too much "blue" material. She is kind of uppity. Here she can be seen scowling at me: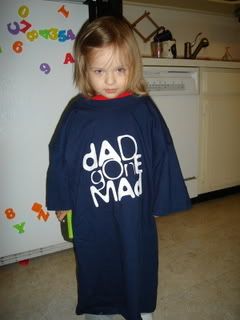 So if you don't already read Dad Gone Mad (which I'm sure you all do, except maybe my Mom, and that's too bad, because she would really appreciate it) go read him, and buy a shirt or else.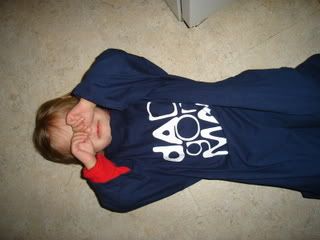 Comment Via Facebook
comments