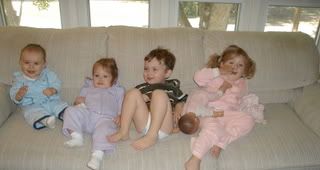 Apparently Ian didn't feel like it was necessary to wear pants even though we had company.
Do these other kids look familiar to you? They might. They are Shepherd and Mia. (also see Mia.) I made the mistake of taking this picture at the end of the morning if you think these kids (and by these kids I mean my kids. The other two were charming the whole time) look grumpy.
I had a really good time with these four and Beth and Corinne, and even though it is Friday the 13th Ian didn't bite anyone. He did eat a lot of Mia's food though, so maybe he was just full.
Comment Via Facebook
comments