IT'S HERE!
Remember when I told you that I won (okay, technically Erin won it for me) an iPod on Blingo?Here it is. Isn't it beautiful?
I love it so much that I could cry.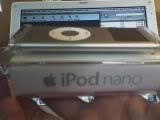 Look at how little and cute it is!
I'm sorry. I'll shut up about it now. But I can't hang around and talk. I've got to go figure out how the hell you use one of these here new fangled contraptions.
It holds 500 songs. Any suggestions on what I should listen to first?
Comment Via Facebook
comments