…and then I took a picture.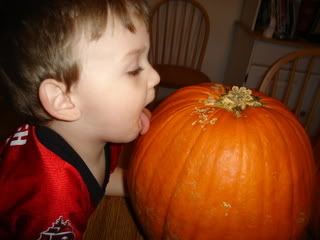 I'll have more pumpkin/jack o lantern pictures up on flickr later, but while we're on the subjects of things that nobody should ever have to say, the other night I was giving twins a bath and when I was trying to explain why they shouldn't consume their bath water I said the following out loud – "You don't really want to drink anything your butt has been in."
It is true. I know I don't want to drink anything my butt has been in.
Oh, and yesterday The Goon Squad decided that they liked each other a lot. Well, either that or they realized that when they hug I make a huge deal out of it and take pictures.
Which leads me to the third thing I said this week that I never thought would come out of my mouth.
"No! You guys are NOT hugging. You are going to bed."
Yes, I went in to check on them when they were supposed to be sleeping and they were standing in the middle of their room. I heard Claudia say "Let's play ring around the rosie."
I said "No ring around the rosie. It's time for bed." That is when they pulled the "We can't go to bed. We're hugging." and they gave each other a big hug and grinned up at me.
Nice try Squad. It was a good effort, but I'm on to you two.
Comment Via Facebook
comments