I took the kids with me to vote this morning. (See crappy cell phone picture. Our regular camera is broken). As we were trying to leave the house Ian kept saying that something was going to "get him".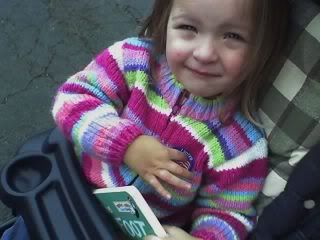 In my super tactful fashion I said "Let's go! If anything is going to get you it will be Mommy, or possibly the rhythm." Then I began to sing a la Gloria Estefan.
On the way to the polling place (in between singing the same four measures of "The Rhythm is Gonna Get You" to an unusually appreciative audience who kept yelling "Again! Again!") I bet the kids $50 each that we would see the neighbor who raked our yard yesterday when we went to vote.
This was my first time voting since I moved to Virginia, but luckily I was able to find the right place with no problem. There were a lot of cars on the parking lot, but there weren't any lines outside. It didn't look too bad. Then as I was putting the kids into the double stroller a bus pulled right up to the door.
It was a bus from a nursing home.
I am not making this up. I wish I were.
So 15 minutes later (we all needed the same ramp, me with the double stroller and they with the walkers and wheelchairs and canes) I walk into the temple. I'm not just saying that. I vote in an actual temple. I sign in without incident unless you count 45 really old people fawning over the twins, which was okay because even Claudia was being sweet and I get into the second line and BAM! There she is. The raking neighbor. I had no choice but to be gracious and thank her, and she was very sweet about it and said that she was raking her yard and she saw the leaf truck coming and said that before we bought the house she used to rake our lawn all the time anyway because it was a rental property (Hello. Run on sentence.). Blah blah everything is okay. I feel much better.
But the kids owe me fifty bucks each. I told them we would see her there.
On the way out (again, I swear this really happened) the high school chamber orchestra was playing "Ding Dong the Witch is Dead".
Maybe they were practicing for November 2008.
Thank you. I'll be here all night.
Anyway, we leave and Ian says "Sing the song!" so I start singing "Ding Dong the Witch is Dead" and he says "No! The rhythm is gonna get me."
*And yes, he did wear that ridiculous hat to vote. He's worn it everywhere since Halloween. They were both wearing cowboy boots too. The pacifier was a last ditch effort. They were being really patient, but right at the end we let three elderly people with walkers cut in line in front of us. It was the right thing to do, but the kids were losing it.
Comment Via Facebook
comments